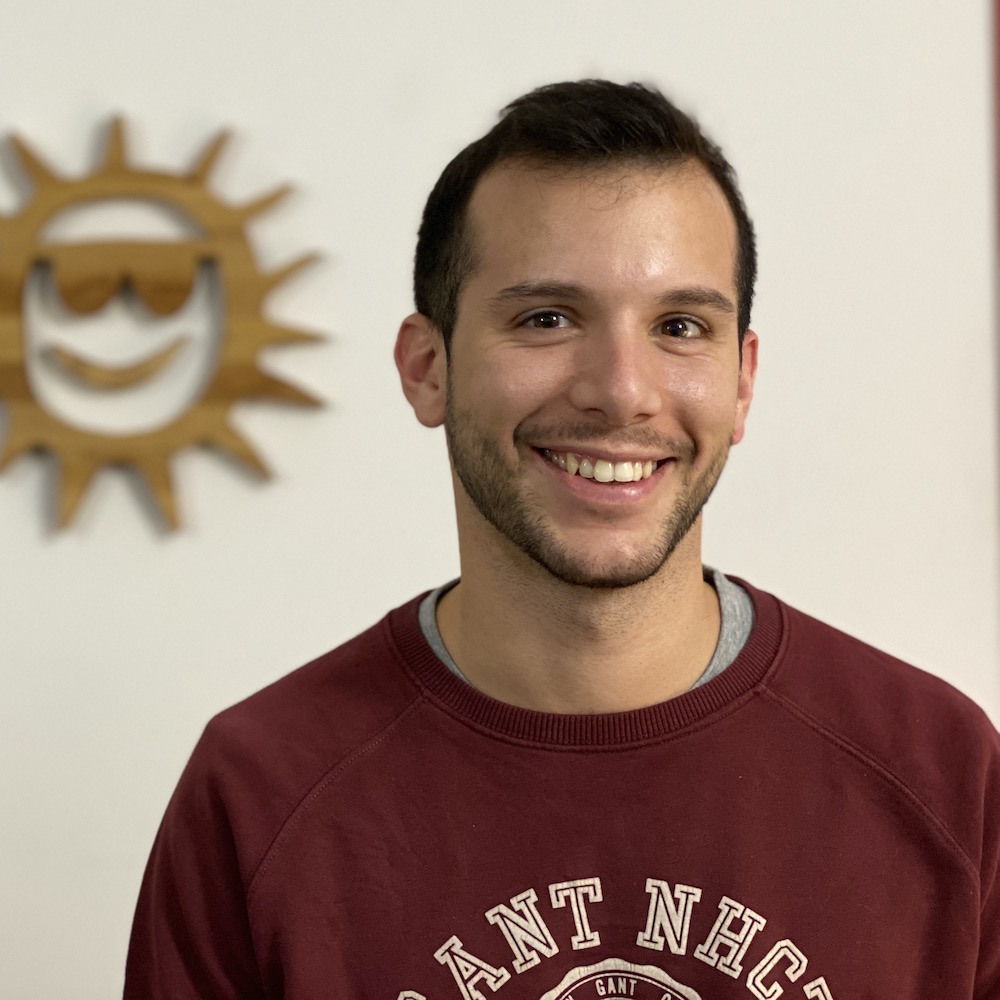 Olá! I'm Miguel, a portuguese from a countryside village, nearby Lisbon, living in Berlin. I am passionate about the Travel and Tourism industry. I love to travel, renew my knowledge, socialize with friends, meet new people and do sports!
How did you come to Juvigo?
I already had some professional experiences overseas, which made me grow a lot as a person and as a professional. Portugal is a fantastic country, however I felt that there wasn't a job that met my professional needs, so when I found this Juvigo opportunity on LinkedIn, I didn't hesitate to apply! The company culture and the whole interview process made me realize that I was on the right path.
What subject are you studying?
I am finishing the thesis for my Master's degree in Hotel Management. I have a bachelor's degree in Tourism.
Do holiday camps, youth trips and language trips have a special meaning to you?
I was for several years monitor and coordinator of holiday camps in Portugal and Switzerland. As president of the Students Union of the university, I have organized many times the trip to FITUR – International Tourism Fair of Madrid – I also participated in trips for young entrepreneurs in Croatia and Belgium. My experience as a hotel entertainer in Greece and Madeira Island in Portugal, in addition to all my childhood experiences, make me realize how important these activities are for the development of a child or teenager, with impact at various levels.
What exactly are your tasks at Juvigo?
My tasks at Juvigo are very diversified. As we started the Portuguese market in 2021, I was responsible for preparing the whole website and translating the working tools into Portuguese. I'm in contact with the team from the different departments to make sure that the strategy we implemented in the other countries, is also successful in Portugal. Next to our Portuguese team I am also responsible for our Spanish market.
What does a typical working day look like for you?
A workday is never the same at Juvigo. There are days when the focus is on talking to the Portuguese and Spanish partners, other days when it's important to take care of the freelancers' work and the website content. Creating new summer camps to offer to participants or responding to parents interested in finding the best summer camp for their children.
What do you enjoy most about your work?
Working in my field of studies is rewarding! All my tasks allow me to apply the knowledge I have acquired over the years, and Juvigo has an excellent team of professionals in many different areas – I really like my colleagues because they create an environment of cooperation, knowledge-sharing and of course a lot of fun.
What do you enjoy least about your work?
I have always looked for jobs that would make me feel fulfilled professionally and I have been happy in every experience I have had. Juvigo surprised me very positively, how is it possible to wake up every single day feeling happy to go to work? There is no task that I like less.
What do you wish for Juvigo and especially for the international platforms?
I have no doubt that Juvigo's mission and values are the key success factor. The internationalization of Juvigo's platforms will be a success, because of the company's strategy but also thanks to all the team involved, that guarantees a quality service to our partners and customers.
Are you happy at Juvigo?
Juvigo gives me something I really need to thrive as a person and professionally, which is responsibility and autonomy to perform my duties in the best way possible – I can only give back hard work, dedication, be a team player and do my best for the company.
---
Would you like to start your career at Juvigo? Then take a look at our international job offers and find the right job for you.
Here you can read more about Juvigo as the European market leader in youth travel.