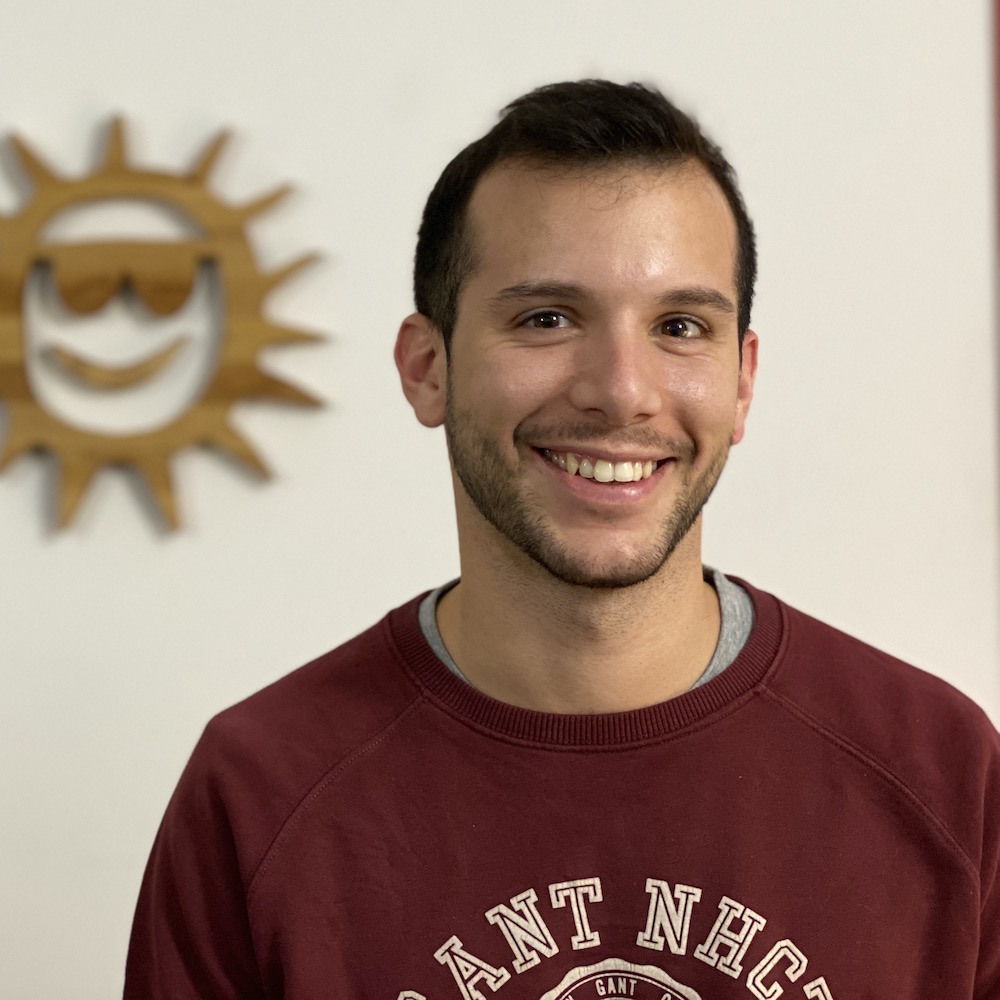 Olá! I'm Miguel, a 30 year old Portuguese from a countryside village, near Lisbon. I am passionate about the Travel and Tourism industry. I love to travel, spend time with family & friends and do sports!
How did you come to Juvigo?
My journey at Juvigo commenced with a bold step — an adventurous move, during the Covid Pandemic, from Portugal to Berlin embracing the unknown to challenge myself in a whole new environment. Eager to explore, learn, and contribute, I joined the team in the heart of this vibrant city. I already had some professional experiences overseas, which made me grow a lot personally and professionally. I found this Juvigo opportunity on LinkedIn, and didn't hesitate to apply! The company culture and the whole interview process made me realize that I was on the right path.
Do holiday camps, youth trips and language trips have a special meaning to you?
I was for several years camp counselor and coordinator of Summer Camps in Portugal and Switzerland. As president of the Students Union of the university, I have organized many times the Youth Trip to FITUR – International Tourism Fair of Madrid – I also participated in Youth Trips for young entrepreneurs in Croatia and Belgium. My experience as a hotel entertainer in Greece and Madeira Island in Portugal, in addition to all my childhood experiences, made me realize how important those activities are for the development of a child or teenager, with impact at various levels. I want to create the same positive impact that other people had on me.
What exactly are your tasks at Juvigo?
I am the Product Manager for the Iberian Market. I was responsible for launching Juvigo in Portugal and actively contributed to the launch of Juvigo in Spain. As we started the Portuguese and Spanish markets back in 2021, I was responsible for preparing the whole website and translating the working tools. At first it was important to understand and work on all the different tasks related to Operations, from SEO to sales, marketing, customer service and many others. This allowed me to have a clear vision and understanding of all the necessary aspects of business management. Nowadays my tasks are more focused on product management and development. In addition to my tasks in the Iberian market, my duties extend to other projects. I'm leading the Sales team, where the focus is on acquiring new organizers to all our platforms and I am also involved in the International Product Meetings, where we define a roadmap to grow Product Management to a new level.
What does a typical working day look like for you?
A workday is never the same at Juvigo. As the head of the Iberian market, it's important to ensure that we keep up to date and that the operation runs smoothly. One of my main responsibilities is to create and preserve a good relationship with our local partners. My day always starts with a brief chat with the team to make sure we're all aligned with the team's priorities. I organize my daily tasks according to the time of the Season. For example, during the High Season the focus is on managing the bookings and on providing a high quality customer service. I have regular meetings with other departments, from Marketing to Human Resources and other Product Managers, to make sure we stay on track and keep growing.
What do you enjoy most about your work?
I love the Travel and Tourism industry! Being able to represent Juvigo in the Iberian Market it's something I really appreciate. I like to work with an International team, with whom I learn and grow together. One of my favorite things about my role is that I regularly visit our Partners and their facilities both in Portugal and Spain – it's amazing to get to know the places where the participants are traveling to.
What do you enjoy least about your work?
Juvigo surprised me very positively, how is it possible to wake up every single day feeling happy to go to work? There is no task that I like less. I continue to enjoy my job as much as the first few weeks, back to when I started.
What do you wish for Juvigo and especially for the international platforms?
I have no doubt that Juvigo's mission and values are the key success factor. The internationalization of Juvigo's platforms is a success, because of the company's strategy but also thanks to all the team involved, that guarantees a quality service to our partners and customers.
Are you happy at Juvigo?
Juvigo gives me something I really need to thrive as a person and professionally, which is responsibility and autonomy to perform my duties in the best way possible – I can only give back hard work, dedication, be a team player and do my best for the company. I try to pass the same values to my team members. I really enjoy que Juvigo Culture and the friendly environment. I'm proud and keep remind our CEO Björn that the Portuguese market was the most successful launch in the history of Juvigo 😂
How would you like to develop as Product Manager Portugal & Spain and what are your goals for your future career?
As a Product Manager for the Iberian Market, I am excited to further develop my expertise in understanding the unique market dynamics of the region. My goal is to enhance our product offerings to cater to the specific needs and preferences of the customers, ensuring that we provide exceptional value and experiences. I aim to collaborate closely with cross-functional teams to drive innovation and continuous improvement, that's why, together with our CEO Björn and our International Product Manager Sam, I'm part of the International Product Management Meetings every week, enabling us to stay ahead of industry trends and deliver cutting-edge solutions to our customers and product.
Looking to the future, I envision myself taking on larger strategic responsibilities within Juvigo, possibly leading product strategies on a global scale. My overarching career goal is to contribute significantly to the growth of the company while continuously expanding my skill set and leadership capabilities, so that one day I can start my own company.
What advice would you give to potential candidates considering a career at Juvigo?
For potential candidates considering a career at Juvigo, my advice is to embrace innovation and bring fresh ideas to the table. Collaboration is key here, as we work across teams to achieve common goals. Take advantage of the learning opportunities provided, prioritize a customer-centric mindset, and contribute your unique perspectives to our diverse and inclusive environment. Remember to maintain a healthy work-life balance while being part of our exciting journey in the travel industry.
What is Juvigo for you?
Juvigo, to me, is more than just a company—it's a dynamic and innovative platform that embodies growth, collaboration, and endless possibilities. It's a place where I've witnessed the power of teamwork and creativity coming together. Juvigo represents a community of international individuals driven by a shared passion for delivering value to customers and staying ahead of industry trends.
---
Would you like to start your career at Juvigo? Then take a look at our international job offers and find the right job for you.
Here you can read more about Juvigo as the European market leader in youth travel.