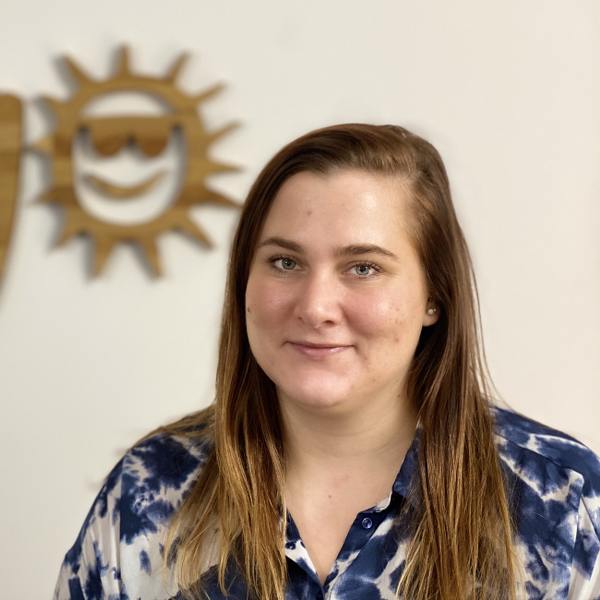 I'm Mandy and responsible for the German, Austrian and Swiss market. I am currently writing my Bachelor's degree in sustainable tourism management. Holiday camps have accompanied me since my youth, as I took part at several summer camps as a participant and later as a camp leader.
How did you come to Juvigo?
I started working as a tour guide for a youth travel company in 2014. In 2019 when I was in the final stages of my studies, I decided to look for a "real" job. Two of my former colleagues introduced me to Juvigo.
What did you study? Do you come from the tourism industry?
Yes, I studied sustainable tourism.
Do holiday camps, youth trips and language trips have a special meaning to you?
I didn't go to classic summer camps as a child, but I started early with language trips at the age of 13. For me, children's and youth trips are an important step towards becoming an adult, they help kids to become more independent and self-confident and also promote openness towards other cultures. That's why I have been guiding youth trips for 6 years and have been working as a camp leader myself.
What exactly are your tasks at Juvigo?
I manage the DACH market at Juvigo. This means that I am responsible for the operations in Germany, Austria and Switzerland. My job offers a lot of variety, from job interviews, to staff training, organizing day-to-day business, partner management or customer service.
What does a typical working day look like for you?
Every day is different. In the morning the first thing I do is, getting an overview of everything that happened since the previous day. Then I organize the day for my team. After that I start to work on my tasks, which can be very different from day to day.
What do you enjoy most about your work?
Working in my field of studies is rewarding! All my tasks allow me to apply the knowledge I have acquired every year after the camps I am thrilled to read the camp reviews we get, which show us why the job we do is important. What is most important for me is that Juvigo gives you the chance to grow. You are encouraged to bring in new ideas. There is nothing better than seeing how these ideas being implemented and help with improving processes.
What do you enjoy least about your work?
To be honest, I'm not a big fan of "writing work". This means you will probably never find a full camp description that I have written.
What do you wish for Juvigo and especially for the international platforms?
Of course I am hoping to see the company grow even more. Not only in terms of bookings and partners but also when it comes to employees and inner structures.
Are you happy at Juvigo?
Definitely! I really enjoy working in such an international team. Juvigo is a very young and open company, so you quickly find your way around. You don't have to be afraid to ask questions or bring in or own ideas, you will always find a friendly ear.
Who would you recommend working at Juvigo to?
Juvigo is a good place for young professionals who are motivated to bring in their own ideas and are not afraid to take on responsibility.
---
Would you like to start your career at Juvigo? Then take a look at our international job offers and find the right job for you.
Here you can read more about Juvigo as the European market leader in youth travel.