---
Public Transport – getting around
It's very easy to get around in Berlin, as we have the S-Bahn, U-Bahn, Tram, busses, regional trains and even ferries. You can ride all that with your BVG- or S-Bahn Ticket.
BVG is the main train and bus operator in Berlin, but the S-Bahn is operated by the Deutsche Bahn. You do not need to buy separate tickets, as you S-Bahn ticket is also valid for the U-Bahn or the Bus.
| | | |
| --- | --- | --- |
| U-Bahn | | |
| S-Bahn | | |
| Tram | | |
| Regional Trains (not white ICEs) | | |
Transport zones – it's very easy
Berlin is separated in 2 Zones: A, B – the third one is zone C, which is all of Brandenburg around Berlin including the airport BER.
So better watch out if your ticket is valid for the right zone. If you stay in the city, AB tickets are enough.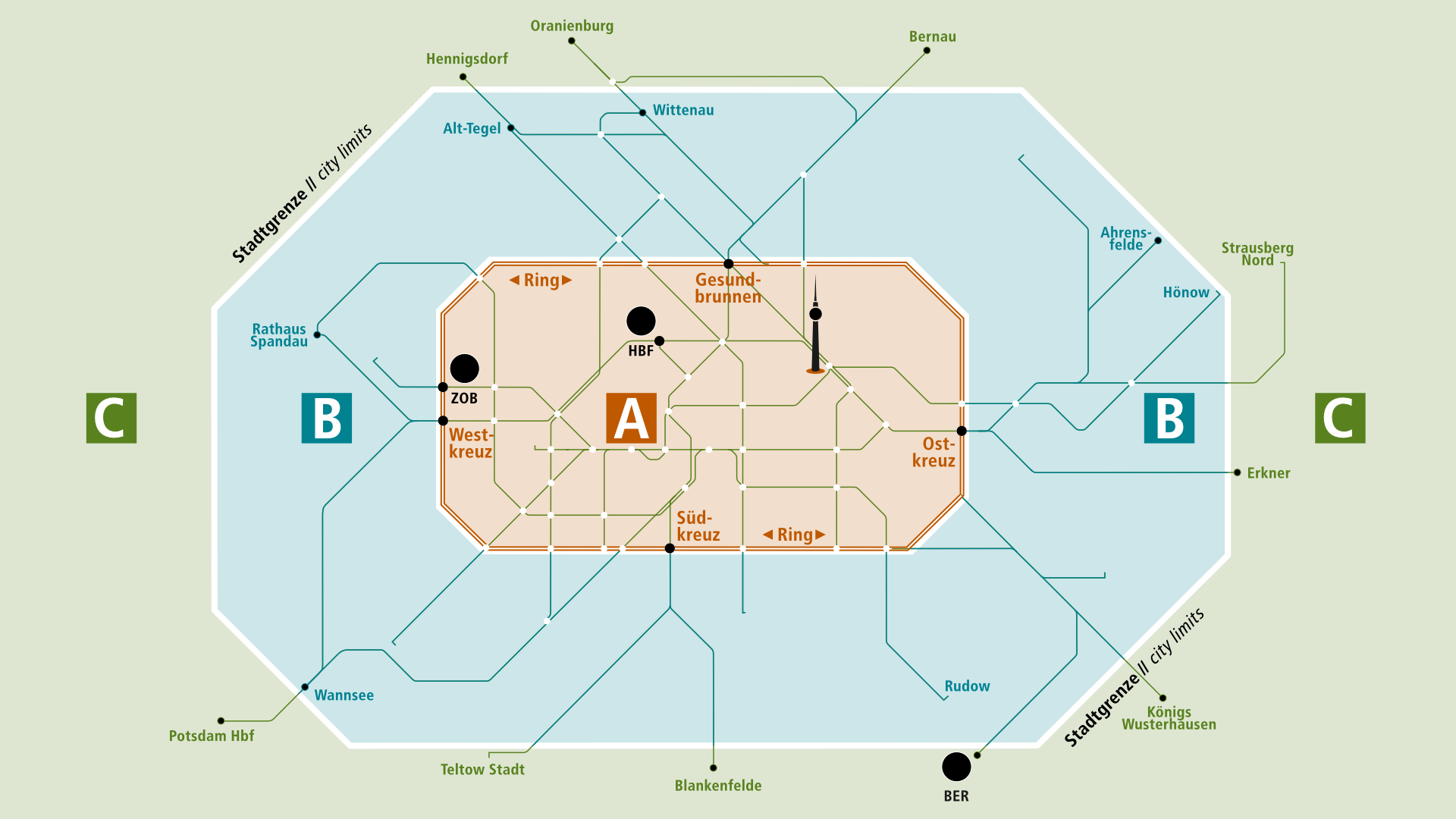 Here you can find the latest city map with all lines.
Tickets
Kurzstrecke – you can ride 3 stations via U-Bahn or S-Bahn or 6 stations via Bus & Tram
Einzelfahrausweis – you can ride whatever you want in the zones for 2 hours after stamping, but only in one direction! You can exit the train/bus and enter again to continue your ride, as long as you keep your direction of travel.
4-Fahrten-Karte – you save a little if you buy this instead of 4 Einzelfahrausweise
24-Stunden-Karte – you can ride as much as you want within 24 hours after stamping
Monatsticket – it's valid for a month and gets you around the city, you can take your dog, children under 6 years of age and on Monday to Friday from 8 pm until 3 am on the next day, on weekends and public holidays you can take up to 4 people (but only one older than 14 years of age)
And there are many more!
→ You can buy them at the ticket machines or in the BVG-App.
You will need an extra ticket for pets and bicycles. 🐕 🚲
Important: Always stamp your ticket, otherwise it's not valid if you get into a control. You can also buy a yearly-subscription in the BVG-Onlineshop (Since the website is in German, we're happy to help you setting it up on your first day at Juvigo😉).

Good to know: You can also buy a so called "Deutschland Ticket" for 49€ per month. With these ticket you can use every public transport in Germany as well as some other trains. Here you can find some more information about it.
Getting a bike
In Berlin you have the nice option to rent a bike via Swapfiets or you can for example go to one of our famous "Flohmarkt" (flea markets). There you can get quite cheap and nice bicycles.
Be careful on Berlin streets and especially watch out for trucks. They can easily oversee you! 🚚
Please be aware that your bike always has to be roadworthy. So you need a bell, a light on the front and rear, reflectors and working brakes. It can cost up to 35 € if you get caught with one of them missing.
To take your bike with you on public transports, you have to buy an extra ticket. It is not included in your ticket.
Drive safe and have fun! 🚲
Where to live?
Living in a flat
It can be hard to find an apartment in Berlin. You need some patience to find the right apartment, but surely you will find the right one. We recommend applying for apartments as early as possible. There are many platforms like Immoscout24 or Immowelt as well as facebook pages and – of course – your colleagues, who might know someone who knows someone.
If you need a residence permit to live in Germany, you must find an apartment as soon as possible. You usually need a rent contract to apply for a residence permit. Additionally to that you need a confirmation letter by your landlord.
After you found an apartment, the next steps depend on your current status:
Working student or full time employee: You need to get a tax ID as well as the Sozialversicherungsnummer (social security number). We need your tax ID to calculate your taxes correctly. You will get this after you register your address (Anmeldung). These steps are very important. After you register your address you will also get a registration certificate (Meldebestätigung).
Interns: All you need is to get a tax ID, even though you don't have to pay any taxes. We will apply for the tax number together with you.
If you come from another country, book your appointment at the Bürgeramt in advance, even before you arrive in Berlin. It helps you register your address faster. This is important, because you need a registration certificate and a tax ID as soon as possible.
Some temporary apartments don't let you register your address. This will be a big problem for you if you're not an intern: if you can't register, you won't get a tax ID. Look for a place that allows you to register. For example, Wunderflats apartments always let you register. HousingAnywhere has a filter for apartments that let you register. These furnished apartments are more expensive, but they let you find a place quickly. Once you have a temporary place to live, you have more time to look for a good apartment.
You can also find nice apartments for students at Neon Wood. Some of our employees also found their apartment via Flatship.de or Telegram Groups (e.g. Simbairbnb).
Finding a WG-Zimmer (shared flats)
Finding the right WG-Zimmer can be a bit difficult. But contacts, nice facebook groups or websites like wg-gesucht.de can help you alot!
Often it's the cheaper and cooler method of living in Berlin. And as a benefit you easily meet new people! 🙂

Important: Please be aware that there can also be scams in the internet. Pay attention if you need to pay a lot of money before getting a contract or even seeing the apartment. If you are not sure if the ad is scam or real, you can ask our admin team and they will help you.
Districts
Berlin is divided into 12 different districts, as there are the following:
Marzahn-Hellersdorf
Lichtenberg
Treptow-Köpenick
Pankow
Mitte
Friedrichshain-Kreuberg
Tempelhof-Schöneberg
Neukölln
Steglitz-Zehlendorf
Charlottenburg-Wilmersdorf
Spandau
Reinickendorf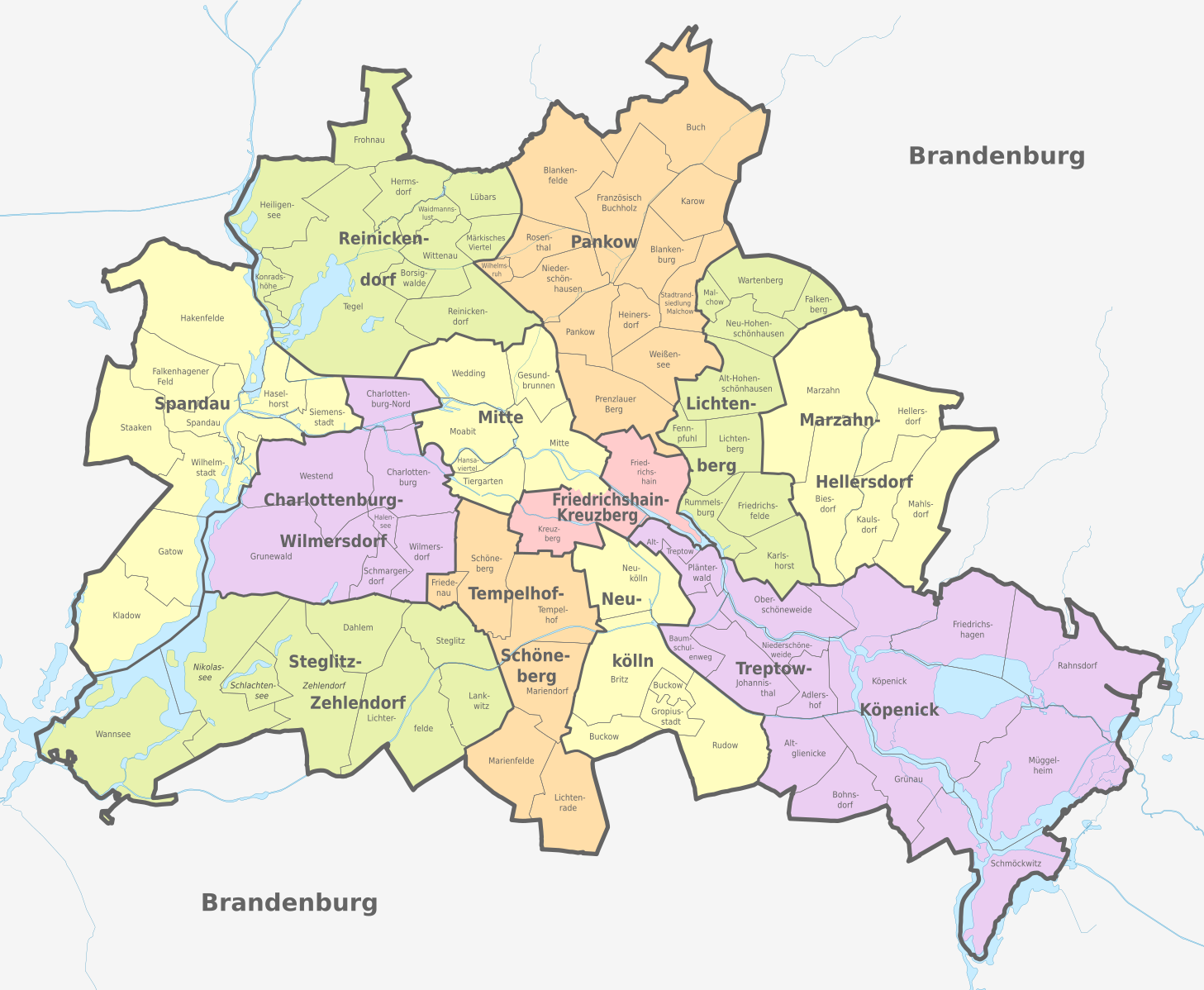 Get health insurance
If you live in Germany, you must have health insurance. If you're currently an intern at Juvigo, you're not obligated to be insured here in Germany. The obligation only applies for full time employees and working students. You are free to choose an insurance company.
You can use websites like Tarifcheck to compare health insurance prices and especially services. The services differ the most between the insurers. They don't help you pick the best insurance for your situation; they just show you the prices. The cheapest option is not always the best option for you.
If you are an EU citizen, you are covered by your EHIC card until you start working. Once you start working, you must have German health insurance. If you are a student, you can use your EHIC card while you study. If health insurance is free in your home country, your EHIC card can save you a lot of money.
Most people in Germany rely on the biggest insurance companies like:
Get a SIM card
If you come from another EU country, you can keep using your mobile phone contract. You make calls, send SMS and use mobile data without any extra fees. After some time (usually 4 months), you must switch to a German mobile plan. Your foreign plan will stop working, unless you return to that country.
When you get a German cell phone contract or prepaid SIM card, you must show a valid ID, and sometimes the Anmeldebestätigung which you got from the Bürgeramt when you registered there.
Use services like Verivox and Check24 to compare cell phone plans. Aldi Talk is a cheap, popular prepaid option. Vodafone CallYa is also a good option, because you can get help in all Vodafone shops around Berlin.
Getting a bank account
When moving to Germany, it is very important to have (preferably free!) access to your salary. There are few things more frustrating than incurring expensive bank transaction fees, ATM charges, and delays in money transfers.
On top of this, having a German bank account is often an important requirement for renting an apartment, signing up for a phone/internet package and getting paid by your employer. As such, setting up a German bank account as soon as possible is definitely a priority when moving to Germany!
In Germany, there are a number of traditional banking options as well as an array of modern online banks. We have profiled a number of these below, highlighting their respective pros and cons to give you a clear idea of which is the best bank in Germany for your situation.
Bank
Costs
Cards
Online-Bank
Free ATMs
English Suppport

N2

6

(Girokonto)
Free
Girocard/ Debit Master Card
yes
3 free withdrawals per month
yes

Vivid Money

(Standard)
Free
Girocard
yes
Up to 200 € in withdrawals per month
yes

Revolut

(Private)
Free
Girocard
yes
Up to 200 € in withdrawals per month
yes

bunq

(Easy Bank)
2,99 € / Month
Girocard
yes
Not free, 0,99 € for 5 withdrawals, then 2,99 €
yes

Klarna

Free
Girocard/ Debit Visa Card
yes
2 free withdrawals per month
yes

DKB Bank




Account for students

Free
Girocard/ Debit Visa Card
yes, no customer center for private customers
Alltime free if you have active state (more than 700 € income per month)
not really; but 24/7 support
Lunch spots 🍔
Between Admiralsbrücke and Carl-Herz-Ufer
Downstairs with our wonderful team in summer
Best spots for your after-work beer 🍺
Between Admiralsbrücke und Carl-Herz-Ufer
Best green spots in and around Berlin
Covid-Tests
At the moment you can get tested for free again at any test center in Berlin that offers free covid tests at least once a week. At most test sites you can get tested even without booking an appointment. 😷
The law is that you can only get tested for free once a week, however, no one checks that.
Doctors
If you need a general doctor, the easiest thing is to type in "Hausarzt" on Google Maps. Those are general doctors. Some of them don't take in new patients, so it's best if you or someone who speaks German calls them beforehand. If you need some quick help, you can go to "Ärzte am Hermannplatz"
To most general doctors you can go without an appointment. You also get your sick note from them if you are sick for longer than 2 days.
To easily find doctors around you, you can also visit Doctolib.
Learning German 🇩🇪
You will get around quite easily by speaking English in Berlin. But of course it is very useful to learn some German to write emails, read letters or make phone calls regarding renting your apartment or making a phone contract.
Public language schools
www.die-deutschule.de Is one of the cheapest options in Berlin. A former colleague of ours works there now, in customer service and as a German teacher. We can contact her for hopefully good deals 🙂
Goethe is a non-profit German cultural association. They offer online and offline classes.
Private language schools
https://www.deutschakademie.de/berlin/en/
https://www.gls-sprachenzentrum.de/en/german_course_berlin.html
Public Holidays
Holidays
Date (2022)
Where?
New Year
1st January
Germany
International Women's Day
8th March 2022
Berlin only
Good Friday (Karfreitag)
15th April 2022
Germany
Easter Monday (Ostermontag)
18th April 2022
Germany
Labor Day (Tag der Arbeit)
1st May
Germany
Ascension of Christ (Christi Himmelfahrt)
26th May 2022
Germany
German Unity Day
(Tag der deutschen Einheit)
3rd October
Germany
Christmas Eve (Heiligabend)
24th December
Half Day by law, full day for Juvigo employees
1st Christmas day (Boxing Day)
25th December
Germany
2nd Christmas day
26th December
Germany
New Year's Eve (Silvester)
31st December
Half Day by law, full day for Juvigo employees
Emergency Numbers
Paramedics & Firefighters – 112
Police – 110
Patientenservice – 116 117 (helps getting doctor's appointments and advice)
Corona-Hotline – (030) 902 98 8000 (Kreuzberg)
BVG-Customer Support – (030) 19 4 49
BVG Lost & Found – (030) 902 77 31 01
☎️ The 5 w-questions
🇬🇧Who is calling? 🇩🇪Wer ruft an?
🇬🇧Where did it happen? 🇩🇪Wo ist es passiert?
🇬🇧What happened? 🇩🇪Was ist passiert?
🇬🇧Who is injured? 🇩🇪Wie viele Betroffene?
🇬🇧Wait for check backs! 🇩🇪Warten auf Rückfragen!
Have much fun in Berlin!
Your new colleagues
If you still need help with some topics – no matter what – we are here to help you!