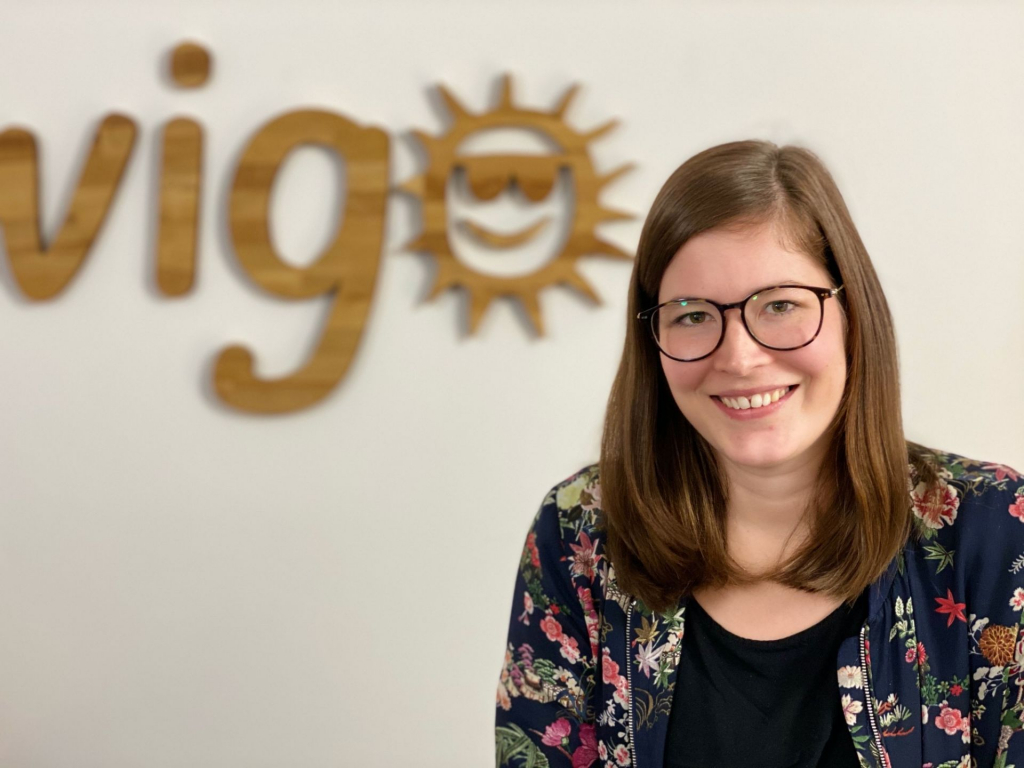 I'm Romie and as PR Manager at Juvigo I'm responsible for the online magazine as well as all press relations. I like to spend my free time outdoors with my family or at home at the sewing machine. 
How did you come to Juvigo and how long have you been here?
I discovered Juvigo in quite a typical way when I was looking for a new job. The concept immediately caught my attention, as I had been to several holiday camps and riding stables myself as a child. So I applied for a job, had a very relaxed and friendly interview, did a trial round and then got the job pretty fast. Now I have been part of the Juvigo team since 1 November 2019.
Do holiday camps, youth trips and language trips have a special meaning for you?
I regularly went to holiday camps as a child. I can still remember that an actress from GZSZ came to the summer party at one camp. I still have the photo and autograph in my photo album.
I loved night hikes and scavenger hunts. I think it's fair to say that holiday camps really shaped my childhood and these experiences definitely contributed to my decision to join Juvigo. 
What did you study? Do you come from the tourism industry?
After graduating from high school, I studied "Culture and Technology" in Cottbus for my Bachelor's degree and then also for my Master's degree with a specialisation in the philosophy of technology. Before Juvigo, I was responsible for product PR at a large online marketplace. I can now apply many of my experiences from there here as well. Juvigo is now my first job in tourism. 
What exactly are your tasks at Juvigo?
At Juvigo, I am the creative mind behind the online magazine. I make sure that parents and children are regularly provided with interesting information about youth travel. I also make sure that Juvigo is present in the German media scene and thus becomes better known. 
What does a typical working day look like for you?
When I come into the office in the morning, I read the morning news from the tourism industry over a good cup of coffee and filter out the information that is relevant for us.
To create new articles for the magazine, I am in constant exchange with our organisers, whom I interview by phone, in person or in writing. Then I research topics for upcoming articles and keep in touch with our customer advisors. This way I keep parents' current questions and concerns on my radar. 
My daily tasks also include written and telephone contact with journalists and editors, to whom I report the latest news from Juvigo.
What do you enjoy most about your work?
The best thing, of course, is seeing the results. When I read positive texts about Juvigo in the newspaper or online, that is the best confirmation of my work. Besides the classic PR work, I particularly enjoy filling our Juvigo magazine with relevant topics. I really put my heart and soul into it. 
What do you enjoy least about your work?
To do good press work, you always need an up-to-date overview of editors and journalists. Keeping the press distribution list up to date requires a lot of diligence and thoroughness and is clearly the duty and not a freestyle.
Do you feel comfortable at Juvigo?
I feel very comfortable at Juvigo and I am happy that I have found an employer that suits me and my life. I can arrange my working hours flexibly and thus balance my family and career well. The accurate time recording helps me a lot to keep my working hours in check. If I do accumulate overtime, I can easily compensate for it with free time.
Who would you recommend working at Juvigo to?
In my opinion, a job at Juvigo is suitable for both career starters and experienced professionals. Here you can experience corporate development live and contribute your own ideas. A job at Juvigo is also a good start for a career in tourism for students and interns. 
---
You can find more job profiles, for example of our dual students, here.
Do you want to start your career at Juvigo? Then take a look at our career portal and find the right job for you.