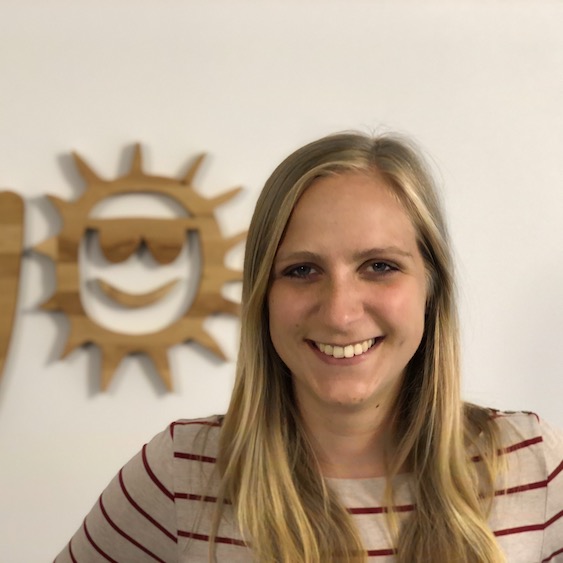 I'm Ayke and I grew up in the north of Germany. I did my Bachelor's degree in tourism management at the north sea coast of Germany. After that I decided to move to Germany's capital and do my Master's degree in sustainable tourism management. I loved Berlin so much that I decided to stay.
During my free time I enjoy being outside. Of course I travel but I also like sports, hiking and running.
How did you come to Juvigo?
I joined Juvigo in 2018, while writing my master thesis in the field of youth travel. My professor knew Björn, our founder and CEO. She connected me with him. I already started working for Juvigo part time while writing my thesis and started full time after I handed it in. Back then I started as Assistant to the CEO.
Do holiday camps, youth trips and language trips have a special meaning to you?
Yes, like for almost everyone at Juvigo. As a kid I never participated in camps myself. But during my studies I worked as a counselor every summer. That was also my first job in the tourism industry. I learned a lot! I spent my first summer in a camp in Croatia – a typical summer camp. The year after I went to a surf camp in France – that was a really cool atmosphere! After that I went to the Costa Brava in Spain and never went anywhere else again. This was the typical youth travel: spending the day at the beach, the water park or on a day trip to Barcelona and the nights in the clubs.
What exactly are your tasks at Juvigo?
My responsibilities are various. As Head of Operations I am responsible that the whole daily business is running smoothly. One part of that is the administration of the company. I do that together with a small team. The other part are our international customer service and booking departments. I make sure that our customers receive the answers they are looking for and that every booking is processed. And that in all the countries in which Juvigo operates: Germany, the Netherlands, Belgium, France, Spain, Portugal, Austria, Switzerland and Italy
As Head of Marketing I am responsible for multiple marketing projects. Planning our appearance at the ITB – the world's leading travel fair – is one part of it.
What does a typical working day look like for you?
There isn't really a typical day for me, because I work on so many different things. I have multiple meetings, coordinate my teams, do job interviews and I am always there for my colleagues. The best part is coming to the office, drinking a coffee, checking my mails and then planning my day.
So you are also responsible for recruiting. What can applicants expect during the interview and afterwards?
Exactly – every applicant has to go through me at some point of the application process 😉 . To us it is really important that an applicant feels comfortable. Being nervous is completely normal but we want to get to know the people the way they usually are. We do the interviews online and talk about the applicant's experiences and what to expect in the position. If both sides liked it, we continue with a test day.
Read more about Juvigos application process.
What do you enjoy most about your work?
What I like the most is that I am involved in a lot of different tasks and areas and I can bring in my own ideas. It never gets boring. I don't have a favourite task but I really enjoy the mix that I have. And it is great to see the development of the company and of course my own development.
What do you enjoy least about your work?
That's a tough question. What I don't necessarily enjoy is when things don't go the way I planned them. Especially when they depend on external factors that I can't influence. Then I have to be patient, show compassion but also stay persistent. I had to learn that!
Are you happy at Juvigo?
Yes, completely. I have felt welcome from the first minute. We have a great atmosphere here with a good balance of productivity and professionalism on the one hand and fun at work on the other hand.
Whom would you recommend a job at Juvigo?
I recommend the company to anyone who has a passion for summer camps and youth travel. Everyone at Juvigo and our partner organizers put in a lot of effort in order to give kids this great experience! If you also fulfil all the other requirements for the position, you're perfect for the job!
---
Other job-profiles, for example of our product managers you will find here.
Do you want to start your career at Juvigo? Then take a look at our career portal and find the right job for you.