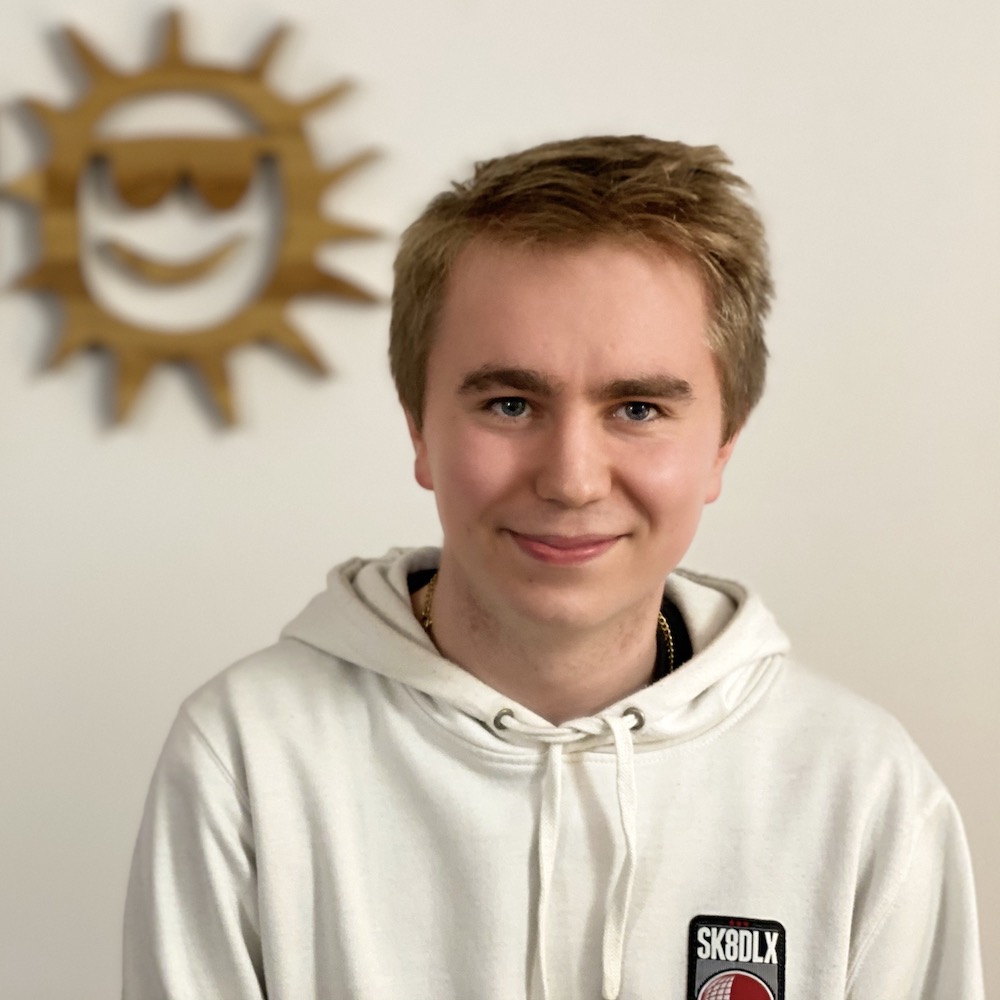 Hi! Im Eli, and I was born and raised in Berlin.
I am currently finishing my bachelor's degree in media- and business-psychology while also working as a working student at Juvigo.
In my free time I like to hang out with my friends, likely in some of the bars of the city, go skateboarding or make some music.
How did you find Juvigo and what's your job there?
I found Juvigo through a job ad on Stepstone as I was looking for a job that could fit my degree. I've been working at Juvigo since November 2019 as a working student in the areas of content & SEO.
Your Job as Content & SEO Manager sounds interesting, but what do you do exactly?
Mostly I am working on optimising our website with regard to SEO (=Search Engine Optimisation). This means I'm taking measures on our website, so Google will put our website higher up in the search results for specific search queries. I also prepare and present a bi-weekly meeting, where we have a look at our international SEO-metrics. For a lot of colleagues, I am also a contact person for any SEO-related questions. Preparing tasks for applicants that are having their test day at Juvigo, is another part of my job. I also help out the Content Team by writing some camp descriptions and implementing them into our system.
You work a lot with Juvigo products, do you have experience with holiday camps or any youth travel holidays?
For sure! I went on skate camps in Paris twice and I loved them. Fun Fact: recently Juvigo partnered with the organiser of these exact camps.
Can you describe a typical day in the office?
Starting at around 9am, the first thing I do is check some daily SEO-metrics while chatting a bit with my colleagues. After that I either start working on some camp descriptions or I fix some technical issues related to SEO on our website. Then I might have a meeting with some colleagues, where we discuss a lot of SEO related topics, e.g. how we can further optimize our pages. After that I restructure some pages and document it in our working sheets. Since I'm only working 20 hours per week, my day in the office already ends around 2pm.
Do you have tasks you don't like very much? And what's your favourite Task?
Of course there are always tasks that are less fun than others. Some camps have a quite complex price model and to implement that into our system requires a lot of concentration to not get it twisted. My favourite task at the moment is to restructure the content on some of our pages, so we can improve the user experience.
What's special about Juvigo?
Juvigo is a place where young people get a lot of responsibilities and learn how to deal with that. Also, Juvigo is as international as it gets. Therefore you automatically train your English everyday and get to know a lot of new people from different cultures. Also because there are a lot of different people with different skills, I feel like Juvigo is a place where everybody can learn from everybody.
Do you feel good at Juvigo?
Absolutely! Especially working with a lot of young people makes the environment very familiar and dynamic. You can always bring up your own ideas and contribute to the development of the company.
Would you recommend your job?
For sure! Your tasks are in different fields, so you can always give yourself some variety. It is also a great mix between working independently and collaborating with your colleagues. And for tech-interested people, it should be especially interesting to learn how some mechanisms of Google work.